---
Register a new device after installing it in your vehicle by clicking the "Register Device" submenu under settings.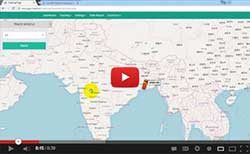 Now fill up the fields as mentioned here.
Device IMEI No.: You can find 15 digits IMEI no. label in the device.
Vehicle No.: This is your vehicle plate number.
Vehicle Type: This is a description of the vehicle like Make, Model etc.
Fuel Tank Capacity: You can check the status of fuel of your vehicle in percentage or litre. If you want to monitor in percentage then leave this field as it is else put your vehicle tank capacity in this field.
SIM No.: Put the mobile number of SIM card which you have inserted inside the device.
Select Network: Select SIM card provider name from the drop-down box.
Select Scheme: Select the plan of the SIM card.