(DP-08) Automatic Pump Controller up to 1.5HP Motor for Simple Switch/MCB with Reservoir and Tank Sensor
DP-08 is a Digital Fully Automatic Pump Controller or water level controller which comes with a water level sensor of the overhead tank and underground reservoir. It has one 20A potential-free relay contact so you can control a pump motor up to 1.5HP directly or higher capacity motor with the help of a contactor. The pump will automatically start when the tank is empty. Automatically stops when the tank is full or the reservoir is empty. It has an inbuilt dry run protection feature. Display indicator power led, pump running led, tank probe error led, reservoir probe error led, reservoir empty led. The technology used a microcontroller-based digital controller with conductive sensors. In the box one controller unit, 2 sets of sensors,
One year warranty
7 Days Replacement
₹2,599
₹4,490
42% Off
Free Delivery
Cash On Delivery (COD) Available
Also Include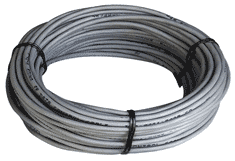 3 Core Sensor Wire (Per Mtr.)
₹ 20.00₹30.00
33% Off
36
Have a question?
Application Area
Domestic
Bungalows
Multi-storied apartments
Hospitals
Factories
Hotels and restaurants
Commercial centers all places with water tank
Technical Specification
| | |
| --- | --- |
| Model Number: | DP-08 |
| Supply Voltage | 230 V AC, 50Hz. |
| Overhead Tank Water Level Sensor | Yes |
| Underground Reservoir Water Level Sensor | Yes |
| Dry Run Protection | Yes |
| Internal Voltage | 12V DC |
| Compatible with | Single phase motor up to 1.5HP |
| Panel Type | MCB or Piano Switch |
| Output | One Potential Free Contact |
| Contact Rating | One 20A Start Relay. |
| Power Consumption | 1.2 Watt |
| Monthly Consumption | 1 Unit |
| Temperature | -20 to +70 degree Celsius |
| Dimension | 136mm x 110mm x 40mm |
| Weight | 300 gm. |
Brief Description of Water Pump Controller
This controller is suitable for Single Phase motor up to 1.5HP.
Switches ON the pump when the water in the overhead tank goes below the pre-decided minimum level.
Switches OFF the pump when the water level in the overhead tank reaches the maximum level therefore prevents overflow.
Shall again switch ON the pump when there is sufficient water in the underground tank.
Therefore no need to switch ON or switch OFF the pump manually.
No more Overflow or Dry run thus saving water electricity & manpower.
Pump Controller Demo
(Hindi) Installation of DG-Pump Controller for MCB/Piano type switch 1 or 3 Phase
(English) Installation of DG-Pump Controller for MCB/Piano type switch 1 or 3 Phase
Download